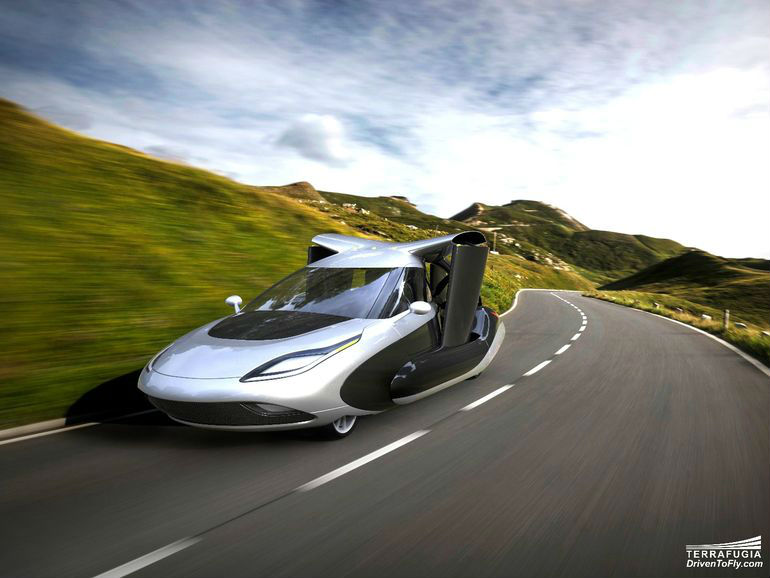 OK, bad news first: it's probably going to take several decades to get flying cars into circulation, and many of us won't even be alive to see it (sorry for that). But that's no reason to get your hopes down!
We have the creative ingenuity that launched a probe onto a comet and sent a satellite past Pluto for some historic up-close photos. Flying cars should be the dream of every engineer and car manufacturer out there, right?
Well, one Italian company is making good on its promise to build a flying car. Terrafugia, a real-life company dedicated to making commercial flying vehicles, has just released the details of its new designs for the TF-X model flying car. And this thing looks awesome!
The TF-X is a four-passenger hybrid vehicle, capable of a cruising speed of 322 km/h (200 mph) with an 805 km (500 mile) flight range, and requires no runway space whatsoever to take off and land. According to ScienceAlert, it will be able to recharge its batteries either from its engine or by plugging in to electric car charging stations. It will be small enough to fit inside a regular garage and will be able to drive on all kinds of streets and highways.
As far as flying, the TF-X is equipped with twin electric motor pods that can power up and lift the car off the ground using an entire megawatt of power. The wings are also able to fold in on themselves when you want to continue cruising on the ground. Check out this promotional video for the TF-X on YouTube.
Now, if you're worried about motorized vehicles flying over your head, on the one hand we don't blame you. But on the other hand, Terrafugia says, "Operating a TF-X vehicle should be statistically safer than driving a modern automobile." That's because the onboard computer that they've designed will handle all the flying by itself. You wouldn't even need your pilot's license to operate one of these machines.
Realistically, we're still looking at eight to twelve years of development for the Terrafugia TF-X, and even then it's only a prototype for "proof of concept" tests. The company is about to test a scale model at the MIT Wright Brothers wind tunnel in the US. "The wind tunnel test model will be used to measure drag, lift and thrust forces while simulating hovering flight, transitioning to forward flight and full forward flight," says one of their spokespeople.
As frustrating as it is to wait for flying cars to roll off the assembly lines, it's still a dream for many car builders out there to make the next big thing. The Ford Model-T was a game changer in the automotive world; could the TF-X flying car be next?
—
Photo credit: Terrafugia